Tigerpoly Mfg., Inc. is a tier 1 supplier for the automotive industry, and has been operating in Grove City, Ohio since November 1987. Tigerpoly produces high quality rubber and plastic parts through the use of Injection and Blow Molding processes.
Our Environmental Policy is to be a responsible corporate citizen in protecting the environment and preserving natural resources. We are committed to complying with applicable legal requirements and compliance obligations. TPM will strive to continually improve our Environmental Management System, and to minimize the creation of wastes and pollution. We will therefore, manage our processes, materials, facility, suppliers, contractors and associates in order to reduce the negative environmental impacts associated with our work. Tigerpoly will ensure through appropriate training of our environmental requirements, the competency of our associates including people doing work under our control.
Tigerpoly Mfg., Inc. pledges to implement and operate its ISO 14001 Environmental Management System to continuously improve environmental performance through the following objectives: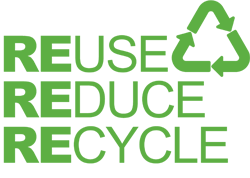 Reduce, reuse and recycle waste and packaging
Improve the efficiency of energy usage plant wide
Reduce molding scrap from the production department
Tigerpoly will champion the principals of the three Rs: REDUCE, REUSE and RECYCLE.
The graphs below are an indication of the current condition of the TPM Environmental Management system: